We also do appraisals for eminent domain purposes, i.e., right of way projects, for the municipaities or private owners, for residential, commercial and industrial properties as well as vacant land.  Counties previously served include Brown, Outagamie, Winnebago, Calumet, Shawano, Kewaunee, Manitowoc, Waupaca Door and Fond du Lac.
These meet the requirements of the Uniform Standards for Federal Land Acquisitions, the Relocation Assistance and Real Property Acquisition Policy Act of 1970 (URA) and Wisconsin Statutes 32.05 and 32.09.
Multi-family, Commercial/Industrial Service Areas
Greg Fenendael specializes in the appraisal of multi-family projects and has a coverage area that extends within about a 75-100 mile radius from the metro Green Bay area within the counties listed below.
John Anderson specializes in the appraisal of C-stores and values various other commercial or industrial properties within the following counties: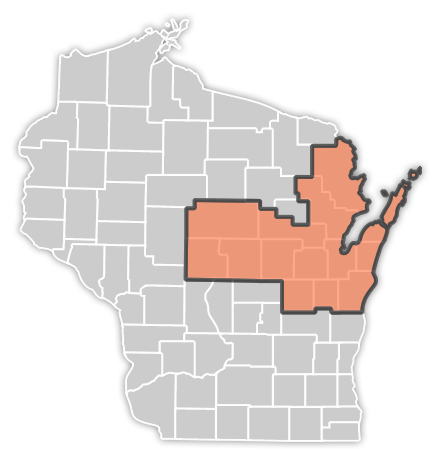 We provide appraisals for non-cash charitable contributions required by the Internal Revenue Service for tax deductions. In addition, we do appraisals for conservation easements as well as appraisals for grant purposes for various land trusts and the Wisconsin Department of Natural Resources.